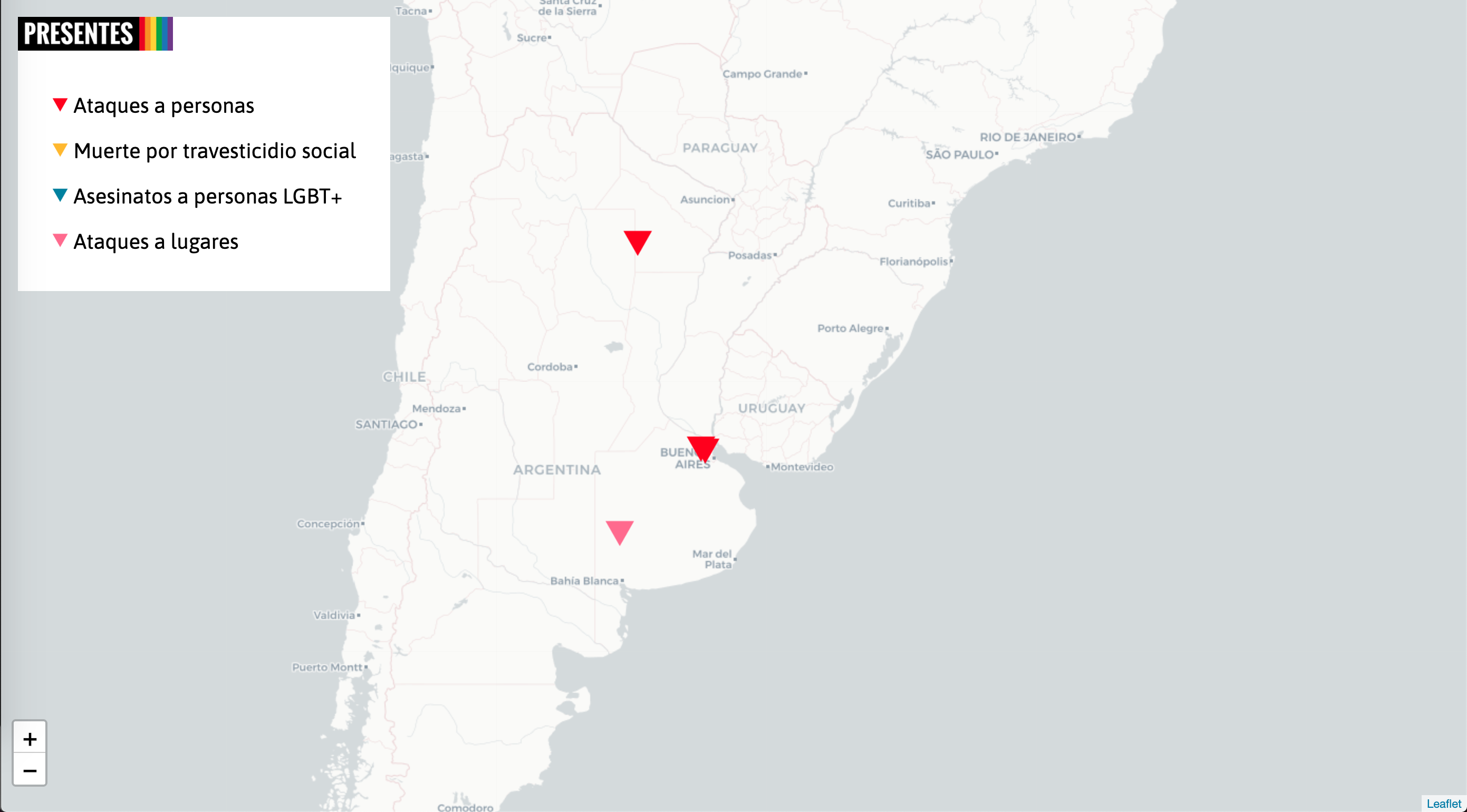 Argentina has no official statistics or open data on hate crimes. The country's LGBT organizations do not have the resources to carry out a documented, systematic count of hate-motivated violence and crimes, and the lack of open data is a shortcoming of our democratic and justice system. What little data does exist is gathered by activists and volunteers from civil society organizations, but there are many gaps in this data, which cannot be considered robust as it does not undergo any rigorous information checks, nor is it carried out systematically. At the same time, ultraconservative religious groups like "Con mis hijos no te metas" ("Don't mess with my kids") that are against rights for the LGBT community have recently gained a foothold in the region and in Argentina. Locally, they are lobbying congresspeople to fight against the rights protected under the Sexual Education Act, the Equal Marriage Act, and the Gender Identity Act. Only in January we have reported from Agencia Presentes 11 attacks against LGBT people and 2 hate crimes. Violence is increasing. We are the only news agency in the region to report systematically this violences but we have limitations without real time statistics.
Results
Ongoing-Expected Outcomes: -Increased awareness of LGBT organizations violent acts against the LGBTIQ+ population in 2019- Protocol for data verification on violence against the LGBTIQ+ population. – An open database, and ongoing map with the information published in our news agency. * LGBT organizations are aware of our campaign and collaborating with the data entry. * Protocol for data verification on violence against the LGBTIQ+ population. * An open data base to be fed in 2019. * Data on violent acts against the LGBTIQ+ population in 2019 * An ongoing map with the information publish in our news agency. The impact of the dataset will be measured through the use it is given by the organization and by media outlets. Agencia Presentes will also publish an infographic displaying the data (with media contents) and that impact will be measured in the visits to our website and social networks metrics (Google analytics + FB Analytics + Twitter analytics).
Other tools
As explained above, LGBT activism has been under attack and is more necessary than ever. Yet because there is no verified data by organizations, reporting on the context that enables these attacks is difficult. This is what has motivated our organization to lunch a campaign + to create a database (with the information we already have)+ an online form to build the database in an open manner and in collaboration with organizations and activists. Using our media platform, we verify the data, and our goal is to create a record and an online map of hate crimes in 2019 that allows LGBT organizations to leave a record of attacks so they can be counted. Building an online network among the organizations for the gathering of open data and utilizing accessible technology to enter the information is, we believe, a way to fight against the violence that hate speech fosters. It also serves to raise voices, bring visibility, and strengthen the few spaces left in civil society where the fight to defend people's rights continues.
Tools and Processes:
Leaflet Interviews with activists, attorneys, and prosecutors Generate an investigation matrix for data collection Develop a data validation methodology Open a public data base Create a map Public campaign announcing the open data base report
featured video
https://www.facebook.com/presentesLGBT/videos/879224259106688/